Sale!
N-VISION OPTICS HALO35 640×480 THERMAL IMAGE SCOPE
The N-Vision Optics HALO35 640×480 Thermal Imaging Scope
The N-Vision Optics HALO35 according to most users holds an ultimate place in short-to-medium range thermal imaging scope segment as an excellent solution for modern hunters, day or night. Based on cutting edge 12-micron 640×480 technology the N-Vision Optics HALO35 thermal rifle scope offers a unique combination of high-quality image, increased ranging capabilities and further improvement in size, weight (only 1.27lb) and power. Fast, 60Hz refresh rate assures smooth real-time viewing and target speed assessment. The 25mm f1.1 high-transmitting Germanium lens is AR coated and provides 2.45x native magnification and wide (18°x14°) field of view. Mechanical calibration shutter and high-contrast OLED further assures industry leading clear and crisp imaging.  Proprietary, user-controlled Region of Interest (ROI) Optimization improves image clarity at your point of aim. Digital suite of features includes onboard recording of still images or videos, 4 polarity pallets, incremental zoom, 4 reticle choices and analog and USB output options. Detection range is 14560 yards, recognition range is 386 yards and identification range is an impressive 195 yards in optimum conditions. The N-Vision Optics HALO35 thermal imaging scope works on 4 CR123A batteries.  Tough, waterproof composite housing, AMD Picatinny mount and 5-year warranty complete the package.
Thermal Imaging
Thermal devices can produce various types of images.  Some are color others are monochrome.  In either case change in shade or color indicates temperature differences.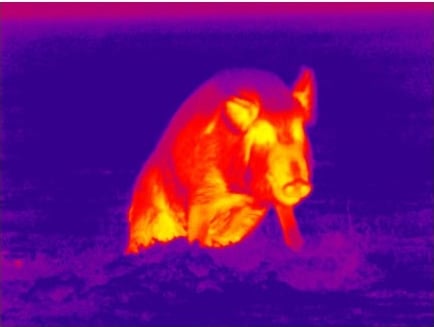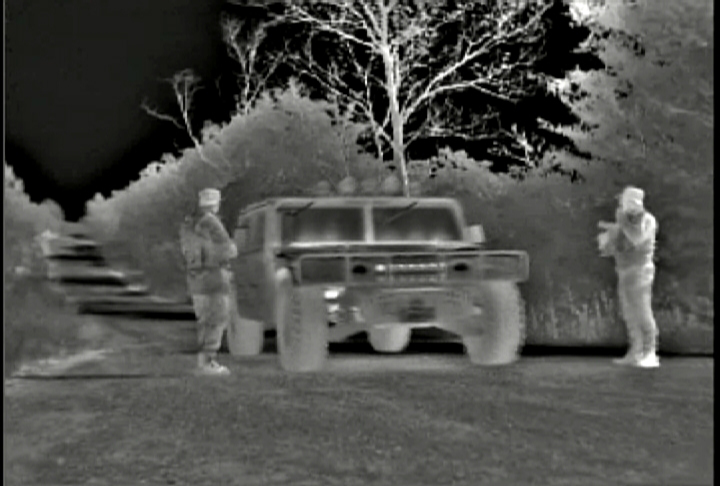 Here is how thermal imaging devices work…
A special lens focuses the infrared light emitted by all of the objects in view.
The focused light is scanned by a phased array of infrared-detector elements. The detector elements create a very detailed temperature pattern called a thermogram. It only takes about one-thirtieth of a second for the detector array to obtain the temperature information to make the thermogram. This information is obtained from several thousand points in the field of view of the detector array.
The thermogram created by the detector elements is translated into electric impulses.
The impulses are sent to a signal-processing unit, a circuit board with a dedicated chip that translates the information from the elements into data for the display.
The signal-processing unit sends the information to the display, where it appears as various colors depending on the intensity of the infrared emission. The combination of all the impulses from all of the elements creates the image.
There are a few key Manufacturers when it comes to thermal imaging.
ATN: produce such well knows devies as ThOR-HD thermal scope, BINOX-THD thermal binoculars, and OTS-HD thermal monocular.
FLIR/Armasight: the largest maker of consumer level thermal products is well knows for their full product line.  Zeus thermal scopes, Q14 and Scout monoculars, Helios and Scout binoculars and many more.
Pulsar: a very popular brand for digital night vision and thermal imaging.  Key products include Pulsar Trail and Apex thermal scopes and Pulsar Helion and Quantum thermal monoculars.
Seek: mobile device mounted thermal cameras are the main products of this brand.
Description